Allied sponsors Cerebral Palsy's 2th Anniversary Dragon Boat Event
27 April 2023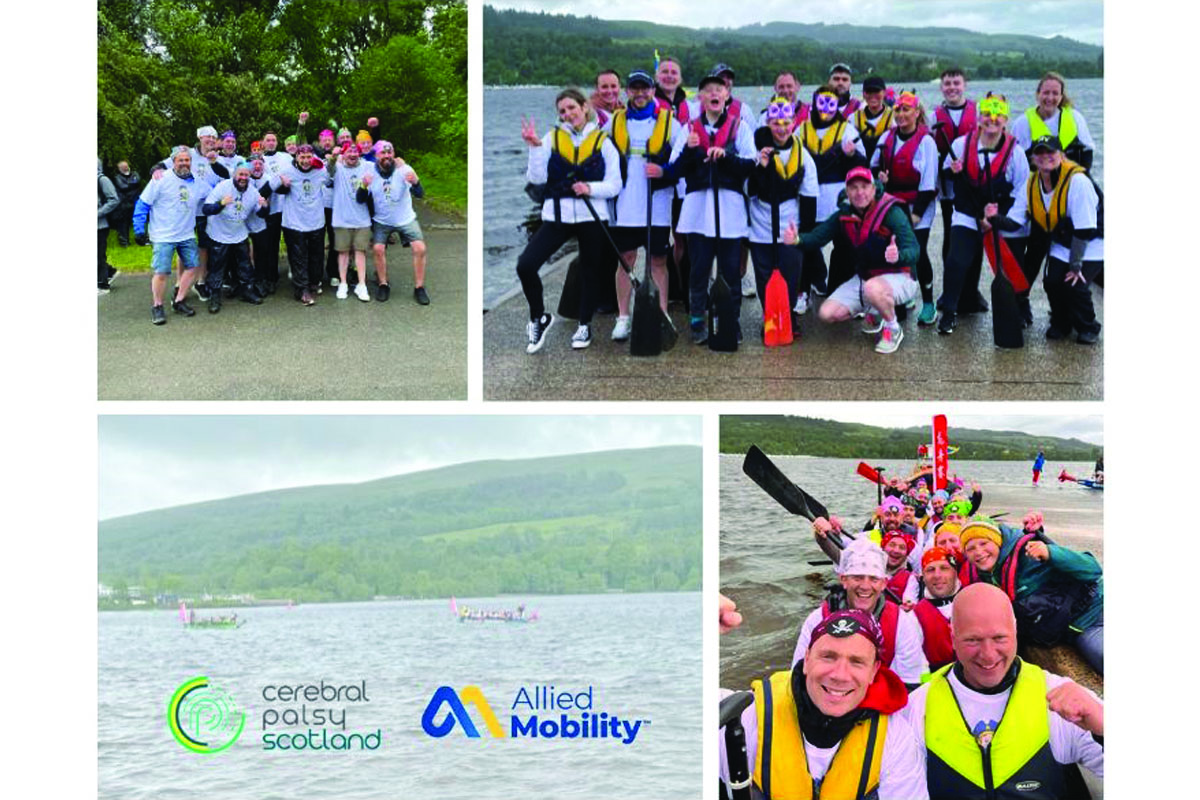 Allied Vehicles is sponsoring this year's Cerebral Palsy Scotland's 20th anniversary dragon boat race day, through their Allied Mobility Brand.
Allied and Cerebral Palsy Scotland have had a long relationship, with the company previously donating to the charity through the Allied Vehicles Charitable Trust and with staff taking part in a sponsored fire walk.
Allied staff took part in the Cerebral Palsy Scotland Dragon Boat Race Day in 2022 and had such a fantastic time they wanted to get even more involved by sponsoring the event in 2023.
Allied Vehicles Corporate Culture Director, David Facenna said, "Cerebral Palsy Scotland is such a fantastic charity that provides specialist support and services for people with cerebral palsy and their families. We're delighted to once again support Cerebral Palsy Scotland and sponsor this fantastic event in their 20th, and our 30th anniversary year."
Isla Campbell Lupton, Head of Fundraising and Communications for Cererbal Palsy Scotland, said: "Over the last year, Allied Vehicles and their brilliant staff team have supported and taken part in several of our fundraising events, so we are delighted and very grateful to them for becoming the headline sponsor for our 20th dragon boat race day on 3 June 2023.
"We are really looking forward to this year's event and hope it will be our biggest and best yet!"
"Every day in Scotland, people with cerebral palsy and their families are not getting enough support.
"As a charity that improves the lives of children and adults with cerebral palsy through specialist therapy, support and information, it's fundraising and events like our Dragon Boat race day that power our work, so that every person with cerebral palsy can reach their full potential."
The event is happening at Balloch Castle Country Park on the shores of Loch Lomond on Saturday, June 3, and teams of all abilities are being invited to take part.
No experience is needed to enter this fun competition, which is an ideal day out for companies or groups of friends – and spectators are more than welcome.
Paddlers propel the boats while drummers keep the rowers in sync, and one Dragon Boat can take up to 16 paddlers and a drummer.
There's a minimum of 12 paddlers and one drummer per crew, but if you can't find any willing pals, you can either share a boat with another team, or take Cerebral Palsy Scotland's half boat option for between six and eight people, plus drummer.
If you want to take part but can't raise enough people for a half or full boat, contact GetInvolved@cpscot.org.uk
Each crew will have at least three races and will be accompanied by a qualified helm.
Once you've registered, you'll be asked to pay a deposit of £100 per Dragon Boat (£50 per half boat).
Teams are asked to make raise sponsorship of £1500 minimum per team per boat, or £750 minimum per team per half boat.
Every day in Scotland, people with cerebral palsy are not getting enough support, and the event will help CP Scotland power their work, so that every person with cerebral palsy can reach their full potential.
One man who has proved himself to be a true dragon boat competitor is Peter Facenna, Allied's Managing Director and captain of the 2022 winning boat, Peter's Pirates, who says: "This a fantastic day out for the whole family – and it's a great laugh.
"It's a wonderful day in such a beautiful location, and it's not too competitive either, as long as my team win!" 
Pictured: Some of the Allied Vehicles staff who took part in last year's Dragon Boat Race, including Managing Director Peter Facenna in the bottom right segment, wearing the skull and crossbones headband.