Cullen Eco-Friendly Packaging wins £425,000 grant for 54 jobs and global growth and welcomes MSP to open new factory extension
06 June 2023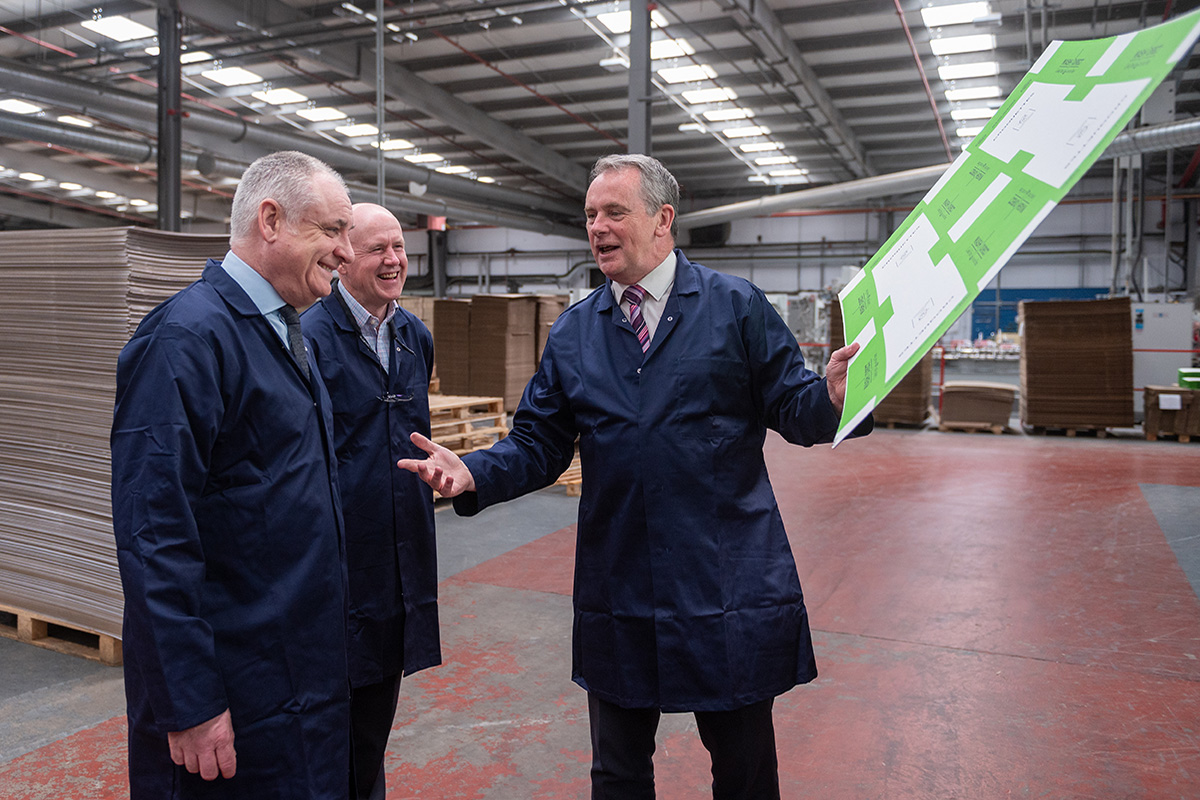 With the climate crisis looming ever larger, The Scottish Minister for Small Business, Trade and Innovation, Richard Lochhead MSP, today officially opened a new factory extension in Glasgow for global sustainable packaging pioneers, Cullen Eco-Friendly Packaging. The firm had secured a £425,000 grant from Scottish Enterprise Federation for job creation and to expand its world class manufacturing capacity.  
The grant has contributed toward a new factory expansion as well as creating 34 new jobs and safeguarding 20, taking its number of employees up to 189. Already growing rapidly and exporting to 34 countries globally, the injection of new funds will help Cullen meet growing demand for sustainable alternatives to plastic packaging, and help organisations meet tough ESG targets.  
The Scottish based eco packaging innovators won the "Low Carbon Manufacturing Challenge Fund," in recognition of their mission to lower carbon emissions at a time when the climate crisis has reached breaking point. Cullen Eco-Friendly Packaging has replaced 1.2 billion pieces of plastic packaging with compostable alternatives since 2020, developing unrivalled capability to replace plastic with state of the art moulded fibre alternatives in just one month.  
David MacDonald, owner of Cullen Eco-Friendly Packaging said: "Global demand for sustainable alternatives to plastic is soaring, and our Glasgow-headquartered firm is becoming a global leader in the space. We use moulded fibre to make compostable packaging for the world's leading retailers, consumer electronics companies, food and drink chains and medical services. Our innovation approach is to do everything in-house from design to creating our own machines, to turning waste into new packaging and manufacturing at mass scale. So this grant win will further our growth, and put British sustainability manufacturing on the global map."  
Richard Lochead, Minister for Small Business, Trade and Innovation, said: "It's really exciting to be a part of what is such a major step forward in a project that will play a vital part in protecting our planet, reducing the world's reliance on single-use plastics and ultimately lowering carbon manufacturing. Companies like Cullen Eco Packaging are exactly why we created the Scottish Enterprise Federation."
Neil Francis is Managing Director for Major Projects at Scottish Enterprise. He said: "Helping innovative Scottish companies to seize the opportunities in the battle against climate change is a real area of focus for Scottish Enterprise. "There can be few better examples of this than Cullen, who have been in operation for over 100 years and are now using their expertise to adapt to the industries of the future."
Pictured: Small Business Minister Richard Lochhead on a tour of the new factory.