Entries open for The Glasgow Business Awards 2018
29 May 2018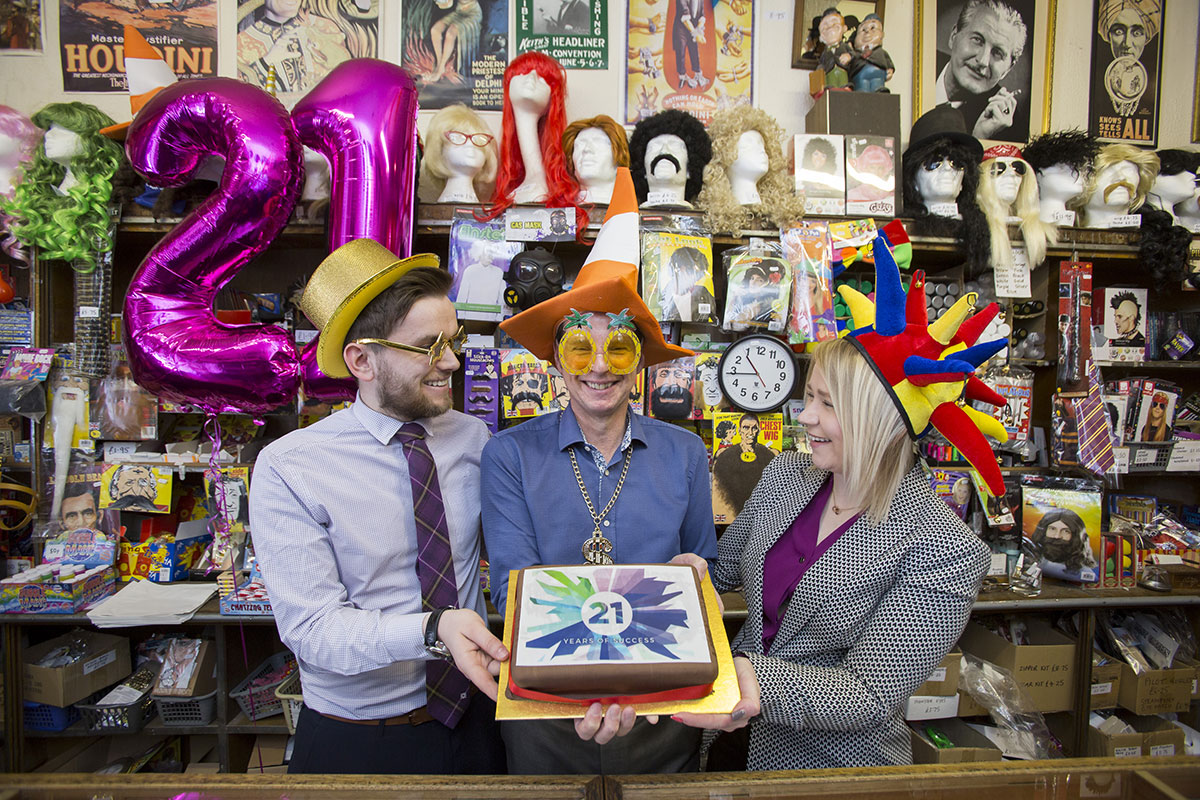 Glasgow Chamber of Commerce will celebrate the coming of age for their Glasgow Business Awards, which are returning for their 21st anniversary year.
Glasgow's current (2017) Favourite Business, Tam Shepherds Trick Shop, was part of the 2018 launch celebrations encouraging Glaswegians to nominate inspirational local businesses for the Evening Times Award for Glasgow's Favourite Business, which is up-for-grabs once again.
The Awards, organised by Glasgow Chamber of Commerce, with headline sponsor Royal Bank of Scotland, are now open for entry across 13 competitive categories, alongside the Most Outstanding Business.
Last year, SLG Technology Ltd., which supplies support functions to the businesses within the Scottish Leather Group, won the prestigious award for its Sustainable Development.
Speaking after their win last year, Director Dr Warren Bowden said: "We're delighted to win this award which is recognition for what we've been doing globally. What we are doing is an industrial epiphany in the leather sector."
The awards, which have a rich history, commenced in 1998 when they were held in the then Thistle Hotel, to an audience of around 250 people. Since then, the awards have grown significantly, last year attracting approximately 700 guests, to become the champion of major achievements and business success in the city, and the 'must have' for the business community.
The Glasgow Business Awards 2018 will take place at the Hilton Glasgow for the 5th consecutive year on 4 October 2018.
Stuart Patrick, Chief Executive of Glasgow Chamber of Commerce said: "This year we are celebrating The Glasgow Business Awards coming of age – a fitting title as we reflect on the last 21 years of the city's growing economy.
"It's fantastic to support Glasgow's business community and its achievements, with the awards giving a platform to companies across the city, both those that have been around for a number of years as well as new and emerging brands.
"We're honoured to welcome Royal Bank of Scotland back as our headline sponsor for a second year, one of the biggest names in global banking that supports thousands of SMEs across the West of Scotland.
"The awards reaffirm our commitment to providing the best possible opportunities to the city's business community, continuing to make moves in developing a sustainable, diverse and thriving economy."
Royal Bank of Scotland said, The Glasgow Chamber of Commerce Award for Lifetime Achievement will also be presented on the night, last year this was awarded to Lord Smith of Kelvin KT CH, Chairman of Commonwealth Games Glasgow 2014 and former Governor of the British Broadcasting Corporation, among other titles.
Previous winners have included Jonathan Muirhead OBE, Sir Arnold Clark, Scott Grier OBE and Willie Haughey OBE, demonstrating the calibre of this prestigious category. The inaugural winner was Sewa Singh Kohli MBE.
You can view full details of the award categories and descriptions, download the category specific application forms or enter online and nominate your favourite businesses on the Glasgow Business Awards website: https://glasgowbusinessawards.com/
The closing date for receipt of completed applications is Friday, June 22.