Help put an end to homelessness with a simple cup of coffee
24 July 2019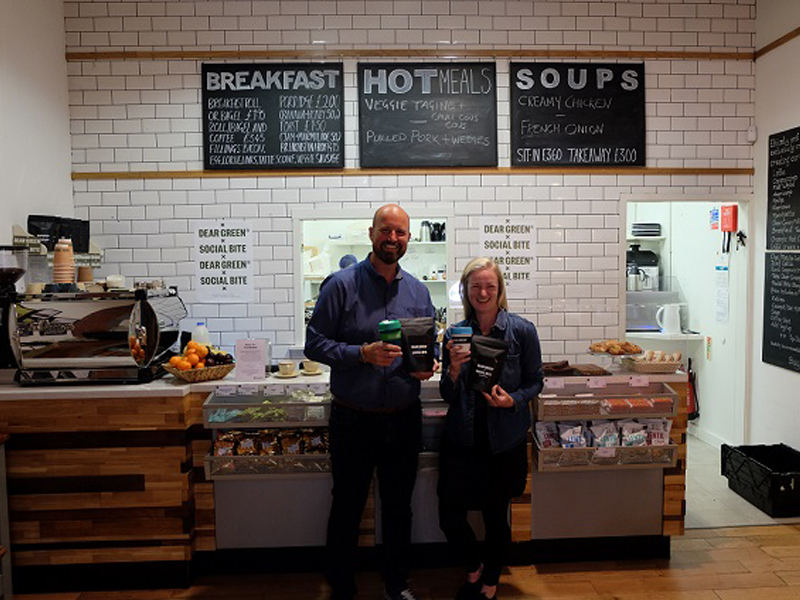 How many of us reach for the coffee first thing in the morning to help us face the day ahead? Wouldn't it be amazing if that simple act of grabbing a coffee helped countless people experiencing homelessness face the day ahead too? That's exactly what Dear Green and Social Bite are hoping to achieve with their brand-new partnership.
The winner of the 2018 Evening Times Glasgow's Favourite Business, Dear Green is a Glasgow-based coffee roaster credited with pioneering specialty coffee culture in Scotland. And it's equally well-known for its sound ethical business practices. The team is proud to source coffee with 100% traceability to the coffee producers, and supports projects improving the conditions, infrastructure and livelihoods of communities in impoverished coffee-producing areas around the world.
Having admired Social Bite's hugely successful 'Pay It Forward' campaign, Dear Green selected Social Bite as their chosen charity for the first ever Glasgow Coffee Festival back in 2014. And now, both ethically conscious organisations are excited to work together once again, joining forces to create an ethically sourced coffee that will benefit those experiencing homelessness right here in Scotland.
The Dear Green x Social Bite Blend is an exclusive blend of Brazilian, Colombian and Rwandan coffee which not only tastes good, it also does good. A percentage of the proceeds from the sale of every retail bag of Dear Green x Social Bite Blend coffee will go directly towards Social Bite's 'Pay it Forward' scheme which enables someone experiencing homelessness to receive a free coffee. In addition, Dear Green will also 'Pay it Forward' on all coffees bought in Social Bite cafes from today until Sunday 21st July. And all of this runs alongside Social Bite's normal daily operation of the 'Pay it Forward' scheme, where customers can choose to buy a drink or food in advance for someone experiencing homelessness to benefit from.
It's all part of Social Bite's ultimate goal to end homelessness in Scotland. They believe everyone should have a safe place to call home and they've worked on a number of different projects and programmes to support this; from building a Social Bite Village to playing a key part in launching Scotland's Housing First Programme.
Dear Green founder, Lisa Lawson, commented, 'We are so happy to be teaming up with Social Bite to spread the love of specialty coffee across all of their sites in Scotland and support them in their goal to end homelessness. Their work to create employment opportunities, provide housing and donate food and drink to those in need is inspiring and a cause we are extremely supportive of. The partnership has so many opportunities for us both going forward, it's refreshing to know that we have such aligned ethics and we can make a real difference together whilst crafting awesome cups of coffee too!'
Social Bite CEO, Jane Bruce added, 'We believe everyone in Scotland should have a safe place to call home; we also believe in good food and great coffee so we are excited to announce our new partnership with Dear Green. Also born in Scotland, they share our values of ethical sourcing, as well as being fresh, seasonal and of course delicious! We are passionate about supporting other local businesses and our team have been working hard with our new partner to create our very own Social Bite coffee blend. Great to have Dear Green joining with us in the movement to end homelessness in Scotland.'
The Dear Green x Social Bite Blend is available to purchase from Wednesday 17th July at all Social Bite cafes in Glasgow, Edinburgh and Aberdeen. Grab a cup today and help Social Bite empower those experiencing homelessness to achieve a better tomorrow.