One week left to nominate Glasgow's best businesses
16 July 2021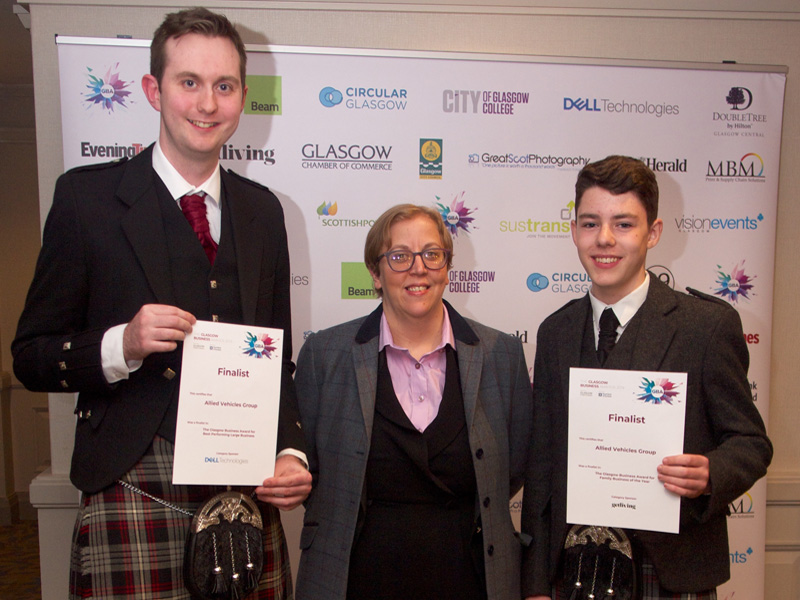 Just one week remains to nominate the best of Glasgow's business community for the prestigious 23rd annual Glasgow Business Awards, with the deadline for entries set to close at 5.00 pm on Friday 23 July 2021.
The awards, which are hosted by Glasgow Chamber of Commerce, celebrate the best of the city's business community with winners selected in a range of areas across 16 categories.
Headline sponsored by Royal Bank of Scotland, and with The Herald as media partner, the awards will take place on 7 October 2021 and will play homage to the city's next biggest event – COP26 – with four categories focused on sustainability.
Vehicle engineering firm, Allied Vehicles Group, based in Glasgow, won three categories at the last event and was proudly crowned as the Most Outstanding Business, Family Business of the Year and Best Performing Large Business after going head-to-head with five other businesses in each category.
Reflecting on the award wins and the challenges brought on from the last year, David Facenna, Corporate Culture Director at Allied Vehicles Group, said: "Without a doubt, the past 18-months have been tough for everyone.
"In March 2020 many of our staff were placed on furlough. Initially, we were unable to trade in the vast majority of our markets or manufacture our wheelchair accessible vehicles, taxis and minibuses.
"Instead, we traded online, allowing our customer services team and skeleton support staff to remain. Our Allied Autocare departments stayed open throughout each lockdown supporting blue light vehicles as an extension to key workers, keeping them on the roads during the pandemic.  Similar with other businesses, much work was done on-site to ensure it was COVID safe with one-way walkways, Perspex screens between desks and temperature checks on arrival, with our employees' safety being of utmost importance throughout the pandemic.
"Despite our best efforts, every business has been impacted, even if they have remained operational throughout the pandemic and it is crucial, as we start to see light at the end of the tunnel that we try to remain positive and optimistic for the future ahead, whilst celebrating success in the face of adversity.
"Glasgow has so many amazing businesses with incredible stories which must be shared as these businesses act as inspiration for others experiencing hard times or are looking to pursue a new venture. 
"When we submitted our award applications previously, it proved to be an excellent exercise to step back and reflect on what we had achieved. The awards evening itself was incredibly special, and we were beyond thrilled to walk away winning three categories. Better yet was sharing the news with our people, the following morning bacon rolls were given to all of our staff with the trophies on full display ensuring everyone could all bask in their success."
"The impact from the GBA award wins was initially two-fold. It gave us an opportunity to reflect on past successes and then to celebrate with our teams. It is not often you get the opportunity to look at a whole year and think of everything that has been achieved. It also gave us more confidence entering other awards, and we have seen success there too, which we continue to celebrate with our people.
"We are a proud family business, with many members still actively working in the company. Being a family business allowed us to pull together even more during the hard times and gave us the adaptability to get through them.
"Despite the challenges COVID presented, due to the agility of the business we are in a great position right now. All of our markets are picking up, some to pre-COVID levels and we introduced a new profit share scheme for our workforce which was paid out in June 2021.
"We have also recently bought premises in Coventry to expand our Used Wheelchair Accessible Vehicle market, in addition to expansion in our Parts department with a new site in Aberdeen, highlighting the exciting times ahead for the business.
"We are also continuing to invest heavily in our Glasgow site, on COVID safe measures as well as improving the working environment for our workforce. Our International department is flourishing having worked out the post-Brexit processes and has experienced record months.
"Allied Vehicles Group currently employ over 540 people, and this is set to expand further as business ramps up as restrictions loosen, people start using vehicles more and the semi-conductor shortages in supply chains ease.
"This year's GBA awards provide an opportune time, more than ever, to look back at the past year and take into account how much we all managed to achieve in spite of the circumstances."
To enter this year's Glasgow Business Awards, visit: https://glasgowbusinessawards.com/