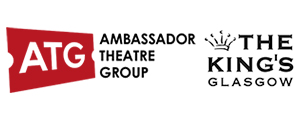 Ambassador Theatre Group
The Glasgow Business Award for Family Business of the Year
Ambassador Theatre Group was founded in the UK in 1992. 
Three decades on, we've grown to be a world leader in live entertainment. We're the world's number one live theatre company, covering every discipline in the industry. We operate venues, run major ticketing platforms and produce
award-winning shows.  
People are at the heart of our success. We're passionate about bringing great live experiences to the widest possible audience; about giving the world's best creative talent the stage it deserves; and about providing our people and partners with opportunities to realise their full potential.  
The King's Theatre Glasgow is one of Scotland's most historic and significant theatres. Opening in 1904 it has played host to top stars and shows ever since. Well known for its Christmas pantomimes, it also provides Glasgow's flourishing amateur groups with a high-profile stage. The theatre continues to present first class shows today from a wide range of genres. 
We create memorable experiences for over 700,000 people each year and, for our Partners provide a platform to promote their brands and products to our audiences. With our high-quality programme of entertainment, you'll be able to promote your company alongside the biggest names in live music, comedy and musical theatre. We create tailor-made packages to suit the needs of your business and are committed to generating greater brand awareness, new business and PR opportunities for our partners.   
For businesses, we have Hospitality and Sponsorship opportunities available, please contact us to find out more information. 
Suzanne McLellan, Heads of Sales & Development [Scotland] on T: 07926 088129
or E: suzannemclellan@theambassadors.com
For more information on The King's Theatre Glasgow, visit their website.