Circular Glasgow
Circular Glasgow is a movement to inspire organisations of all sizes to innovate and future-proof their business models by adopting circular strategies. 
This involves a programme of activity aimed at SMEs to provide support, tools and expert knowledge. It connects companies across the city, helping them to open up new revenue streams, increase competitive advantage and realise financial savings using a range of practical initiatives. 
Circular Glasgow is an initiative of Glasgow Chamber of Commerce with a vision to position Glasgow as a leading circular city. We aim to achieve this by inspiring and encouraging Glasgow based businesses to look at their current business models differently through the adoption of new circular design-based strategies.
A circular economy is one in which every product is created with the intent of extending its life span and adding value wherever possible through this process. Circular economy is a direct challenge to the current 'take, make, dispose' linear economy mentality. 
7 key elements of the circular economy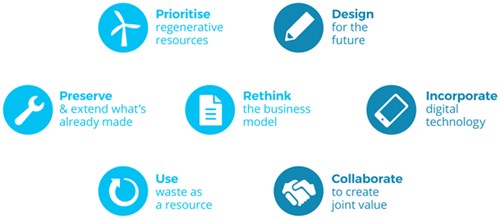 Image copyright Circle Economy. 
For more information on Circular Glasgow, visit: www.circularglasgow.com