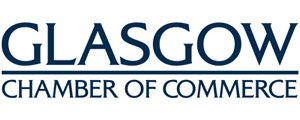 Glasgow Chamber of Commerce
Glasgow Chamber of Commerce Award for Lifetime Achievement
Connect to Success
Glasgow Chamber of Commerce is the voice of business in Glasgow, with a broad mix of members by size and sector across the region, it influences the future prosperity of Glasgow for the best benefit of its members.
The Chamber has proudly served the business community in the city since 1783 and has a wealth of knowledge and expertise to help business success and grow and promote the city's interests at home and internationally.
Glasgow Chamber of Commerce offers members business solutions, cost savings, policy activity, projects and opportunities to expand networks and reach.
As an accredited Chamber of Commerce our work is regularly assessed by the British Chambers of Commerce to ensure that it is of the highest quality.
We also work with Scottish Enterprise, Glasgow City Council and other partners and stakeholders to benefit businesses in Glasgow and the West of Scotland.
For further information on Glasgow Chamber of Commerce, visit our website.