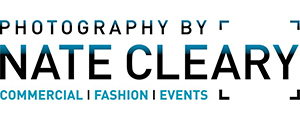 Photography by Nate Cleary
Photographer
Photography by Nate Cleary is a bespoke, internationally published commercial, event and fashion photographer from LA, providing high-end photography for commercial and corporate campaigns, press coverage, events, fashion and ghost mannequin and product photography.

With a client base including Apple, Channel 4, Grand Designs, LA Fashion Week, Scot JCB, IMV Imaging and Worldbank, Photography by Nate Cleary is an integral part of billboard and online campaigns from America to Glasgow to London. His unique style of LA Photography provides a vibrant, dynamic and scroll-stopping imagery for sophisticated brands. 

When it comes to brand identity, it can be difficult to convey the meaning you want to, in the quality it needs, to be effective across platforms. In our digital world, having a range of captivating, high-quality images to sell your brand can be vital to your success. When you choose Nate Cleary as your commercial photographer, you choose someone who understands how to connect all of the key photographic elements to create something impactful for your websites and advertising.

With years of experience across commercial, fashion and product photography, Nate is well-equipped to offer you a highly professional and creative campaign photography service. 
For more information on Photography by Nate Cleary, visit the website.