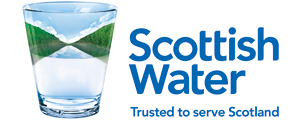 Scottish Water
Scottish Water provides vital water and waste water services, essential to daily life, to 2.54 million households and 152,000 business premises across Scotland, and is trusted to care for the water on which Scotland depends. 
We are one of the UK's top performing water companies, providing our customers with high levels of service. 
We are continuing to build an increasingly sustainable business, while our average household charge remains one of the lowest in Great Britain. The quality of drinking water we provide to customers has been sustained at a high level and our investment helps to support jobs and economic growth while protecting and enhancing the environment. 
Looking ahead, we are focused on sustaining high performance so that we continue to provide our customers with a consistently high standard of service and great value for money. 
To find out more about Scottish Water and our services, visit www.scottishwater.co.uk and follow us Facebook and Twitter.