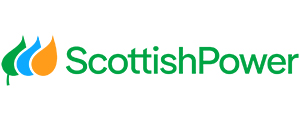 ScottishPower
The Glasgow Business Award for Green Champion
At ScottishPower, we're on a mission to deliver a cleaner, electric future. As part of the Iberdrola Group and pioneers of onshore and offshore wind for over 20 years, we're proud to be the UK's first, fully integrated energy company that generates 100% green electricity.  
The climate crisis is the defining global issue of our time, and we're committed to helping the UK reduce its carbon emissions and reach net zero by 2050. 
Increasingly, small businesses are focused on implementing sustainable work processes and products. That's why we offer 100% green electricity and flexible, low-carbon energy solutions. We're helping businesses manage and gain control of their energy, and crucially, reduce their reliance on fossil fuels. 
Our products include solar panels, EV charging solutions and air source heat pumps. These technology-based solutions can help businesses generate and store their own electricity, reduce energy costs, and monitor and control their energy usage 24/7. Even better, we're helping businesses make the most of their existing premises and potentially generate additional revenue with Public EV charge point hosting and solar solutions. 
We're committed to working alongside our business customers. Our focus is to offer valuable advice, information and solutions that will help them grow, thrive and be part of a green future that is both accessible and sustainable.
For more information on ScottishPower, visit their website.