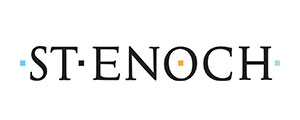 St. Enoch Centre
Pre-Dinner VIP Drinks Reception Sponsor
St. Enoch Centre is located right in the heart of Glasgow, the largest retail centre outside of London. Since St. Enoch first opened its doors in 1989, it has consistently led the way for shopping centres in Scotland, inspiring the growth of Glasgow's vibrant retail sector. 
Following a three-year £50 million leisure development, St. Enoch has now transformed into a truly mixed-use destination, providing for the first time in Glasgow city centre; large scale retail, dining and leisure under one roof. 
Joining the Centre's well established and flourishing retailer-mix is the ultimate big screen experience, a 9 screen Vue cinema with recliner seating and in-house bar. A new restaurant line-up including Cosmo World Buffet, Nando's and local operator Namaste, has combined with Scotland's busiest food court, The Atrium, and successful stand-alone cafés to create the city's widest F&B offer. 
The addition of 65,000 sq ft of new leisure, including Scotland's only Boom Battle Bar and Level X, establishes St. Enoch as the destination of choice for consumers looking for unique, exciting and memorable experiences. 
St. Enoch Centre is proud to support the community and work with local charities and organisations which mean so much to its customers. 
It aims to make contributions which will have a meaningful long term impact in the community and has helped fund cultural programmes within Glasgow schools and supported many charities. 
For more information on St. Enoch Centre, visit their website.