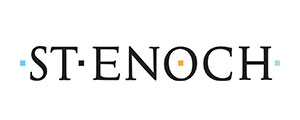 St. Enoch Centre
Pre-Dinner VIP Drinks Reception Sponsor
St. Enoch Centre is located right in the heart of Glasgow, the largest retail centre outside of London.
Located at the junction of Glasgow's best-loved shopping streets - Argyle Street and Buchanan Street - the Centre is home to an unrivalled range of stores including Boots, H&M, and the world famous toy store, Hamleys.
Since St. Enoch first opened its doors in 1989, it has consistently led the way for shopping centres in Scotland, inspiring the growth of Glasgow's vibrant retail sector.
2011 marked the first full year of trading for the Centre after completing its £150 million redevelopment - a project which transformed the Centre, introduced more than 40 new retail spaces and significantly upgrade its customer service facilities.
Welcoming over 19 million shoppers each year, St. Enoch has continued to build on this success by attracting a wide variety of exciting brands.
It is proud to support the community and work with local charities and organisations which mean so much to its customers.
It aims to make contributions which will have a meaningful long term impact in the community and has helped fund cultural programmes within Glasgow schools and supported many charities.
For more information on St. Enoch Centre, visit: www.st-enoch.com