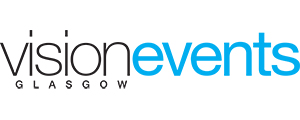 Vision Events Glasgow
AV Partner
Vision Events Glasgow is an industry-leading production company creating world-class events across the UK and Europe from our office and warehouse in Glasgow. Our team have a 30+ year history of producing outstanding events - it's our passion. 
As with our client list, our events and projects vary enormously; ranging from small product launches and intimate parties through to full-scale international conferences, glittering awards ceremonies and complex roadshows. 
Unlike other companies in our industry, Vision Events Glasgow offers the 'full package' including cutting edge AV equipment and event technology, full creative production and event planning, completely in-house.
Our unique approach means you have one team from start to finish for excellent project control to give your event the creative edge. 
Contact our team on T: 0141 334 3324 or E: info@visioneventsglasgow.co.uk to see how we can help create a memorable event for you. 
For more information on Vision Events Glasgow, visit their website.