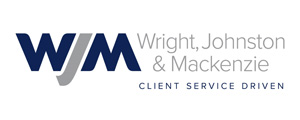 Wright, Johnston & Mackenzie LLP
The Glasgow Business Award for Entrepreneur of the Year
It's All About People
Wright, Johnston & Mackenzie LLP is a full-service, independent Scottish law firm, with a history spanning over 165 years.  
Operating from a network of offices across Scotland, WJM boasts a wide range of expertise, with dedicated teams specialising in a variety of areas, including the drinks industry, renewables, private client, family business, commercial property, conflict resolution, construction, contracts and tax.
With an impressive client base throughout Scotland and the rest of the UK, WJM is well placed to offer joined up and pragmatic advice, whatever your industry.  The firm's sector knowledge is wide-ranging, with outstanding individuals in the firm recognised as specialists in their field.  
WJM is part of the world's largest network of independent legal and multi-disciplinary firms - GGI Global Alliance - meaning they can also assist clients on any business they conduct outside of Scotland. 
The firm's solicitors are truly committed to looking after their clients, using their imagination and technical skills to deliver solutions, and ensuring fantastic client service is always front of mind. Close working relationships with various industry bodies, consultants and other professionals ensure the firm delivers relevant, up-to-date and accurate counsel. 
Whether working with private individuals or businesses, WJM's expert team ensures everyone involved, from partner to support staff, follows the same goal of achieving the best outcome for their clients.  
If you're looking for legal expertise, whether in relation to your business, yourself, or your family, contact the WJM team on 0141 248 3434 or enquiries@wjm.co.uk.
For more information on Wright, Johnston & Mackenzie, visit their website.